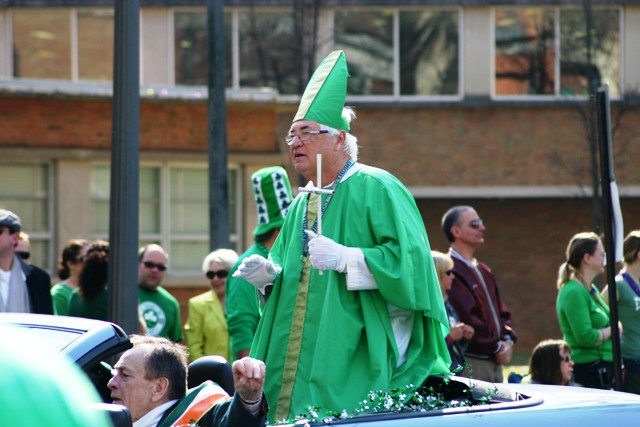 And why is he wearing green?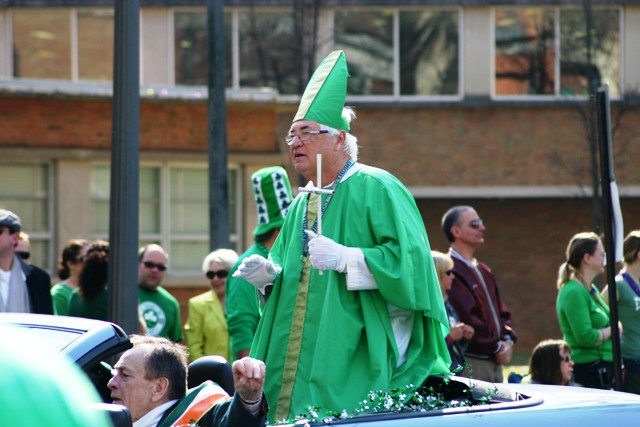 Well, not exactly . . . In reality it's Knight's of Columbus Past State Deputy William Howard riding in the St. Patrick's Day Parade held last weekend.
According to a city spokesman approximately 22,000 people attended the 24th annual celebration of Irish culture and heritage. The downtown Roanoke event was expanded this year with two musical venues featuring both Celtic and mainstream music performances, and a children's area with face painting, balloon animals, and the very popular moonwalk.
The parade of floats is always one of the most anticipated events of the day. This year's entrants were outstanding, with the winners as follows: Most Patriotic – Patrick Henry High School Air Force ROTC Unit / Best Irish Theme – Tuff Gumby / Best Neighborhood – Old Southwest Inc. / Best Non-Profit – TIE: Angels of Assisi and Caporales Ruphay / Best Business – Western Virginia Water Authority / Best Overall – Virginia Highlands Pipe & Drums.
"Thank you to our great music acts, parade participants, sponsors, downtown business owners, and volunteers, and to all of the people who came out to support the McDonald's St. Patrick's Day Parade & Shamrock Festival on Saturday," said Tina Workman, Vice President of Events and Operations for Downtown Roanoke, Inc. "With everyone's support and participation, the event was a great success."
"It was a great day to be a downtown Roanoke merchant," said Tim Belcher of Rolling Meadows Farm. "Sales were better than the last few years, the crowd stayed downtown throughout the day and restaurants were packed. I also heard a lot of positive feedback regarding the music."
Summer kicks off officially on May 24 when Festival in the Park, Inc. and DRI present Festival 2013, sponsored by Bank of America. Festival 2013 will be held at the River's Edge Sports Complex in downtown Roanoke this year, and will include concerts, vendors and more. To participate in Festival 2013, visit www.downtownroanoke.org for applications.