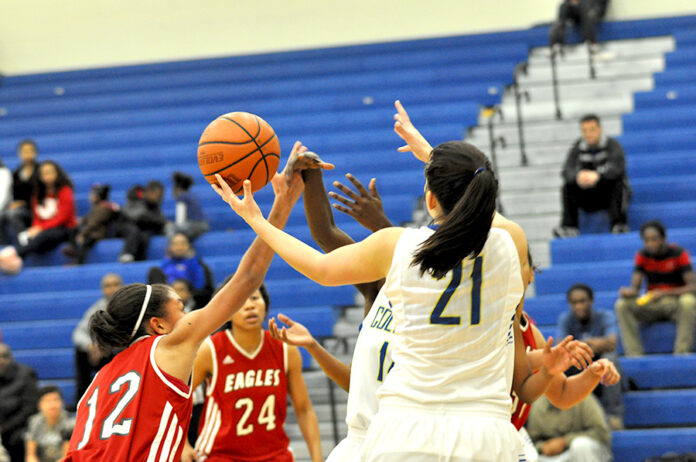 There were two contrasting scenarios playing out on both ends of the William Fleming court Wednesday night in the Western Valley District girls basketball tournament final.
On one end, the Lady Colonels were looking for scissors to cut down the nets.
On the opposite end, the Franklin County team thought they were ready to play more basketball.
When all was said and done, the scissors prevailed as William Fleming held on for the 55-53 thriller before a vocal crowd of supporters from both schools.
Franklin County had come back from a five-point deficit in the final minute to close to within two points, and the Lady Eagles had possession with 12 seconds left for a potential game-tieing basket that would force overtime or a game-winner from behind the arc.
The Eagle went inside, but a misplayed pass resulted in a scramble and held ball that gave Franklin County possession with 1.1 seconds left.
After a timeout, the Eagles inbounded under their own basket with junior Zarkia Mattox cutting toward the paint from the left side. She caught the pass and threw up a short runner that fell through the net.
Franklin County players and their faithful began celebrating, while the Fleming girls headed toward their bench in shock.
Not so fast.
The outside official, with a clear view of the pass, shot and clock immediately waved the shot off as leaving Mattox's fingertips late. The Lady Colonels jumped with joy and several Franklin County players fell to the court in disbelief.
The game had been close throughout, with Franklin County leading 13-12 after the first quarter. Fleming outscored the Eagles 12-4 in the second quarter, with Franklin County held scoreless until a pair of baskets in the final two minutes sent the teams to the break with Fleming up 24-17.
The Lady Eagles got their offense in gear in quarter three, scoring 21 points and closing to within 2 at 40-38 heading to the final frame. Fleming seemed ready to pull away before the final Eagle push and frantic finish.
"I've never been more happy," a smiling Fleming head coach Champ Hubbard noted as the nets were being cut. "It was a great game. I thought their last shot was good, but the move to shoot took the time away."
Both teams advanced to next week's Northwest Regional.
"It came down to the best two teams tonight," Hubbard added. "We expected a tough game and our girls showed a lot of fight."
Sophomore Gracie Doane led the Lady Colonel scoring with 11 points, including a trio of bombs from behind the arc. Ryjae Anderson followed with 10 points, while Antavia Stevens and Cheyenne Graves each added 8 for Fleming.
Brianna Taylor paced Franklin County with 12 points, with Mattox adding 11 and senior Charmaine Hairston chipping in 10 for the Lady Eagles.
by Bill Turner