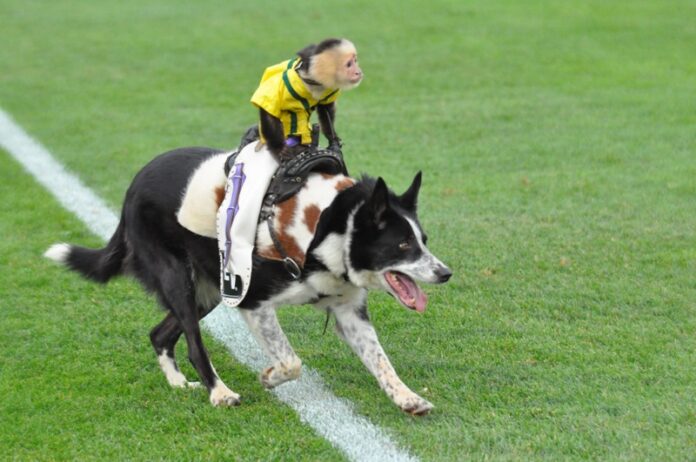 It's definitely a case of you gotta see it to believe it.
The Monkey Rodeo took center stage at Salem Memorial Stadium, playing before over 6,000 cheering and howling fans in the much-anticipated two-night stand during the Salem Red Sox homestand against the Wilmington Blue Rocks.
Sam got everyone's attention when
he threw out the first pitch. He was later joined by Belle Star as the two galloped across Lewis Gale Field before the start of the fifth inning.
In case you haven't caught on, Sam and Belle Star are capuchin monkeys appropriately clad in chaps and tassels. The pair of bronco-busters ride on saddled border collies, herding a group of wandering goats that ramble around the field, much akin to an Old-West roundup.
The monkeys took to the field after the fourth and seventh innings, and made the requisite encore gallop after the game's final out. Sam and Belle Star rode past the edge of the grandstands for photo-ops by the Red Sox fans who lined the field.
Team Ghost Riders are led by Tim Lepard and his 7-year-old daughter Lakelynn. They have appeared at a Denver Broncos football game, commercials and have been on ESPN's play of the day. They will appear in the movie "Gambit" starring Cameron Diaz and Colin Firth, which comes out in October.
1)Sam, a capuchin monkey, heads across the Lewis Gale Field during Friday night's edition of the Monkey Rodeo
BILL TURNER story/photo