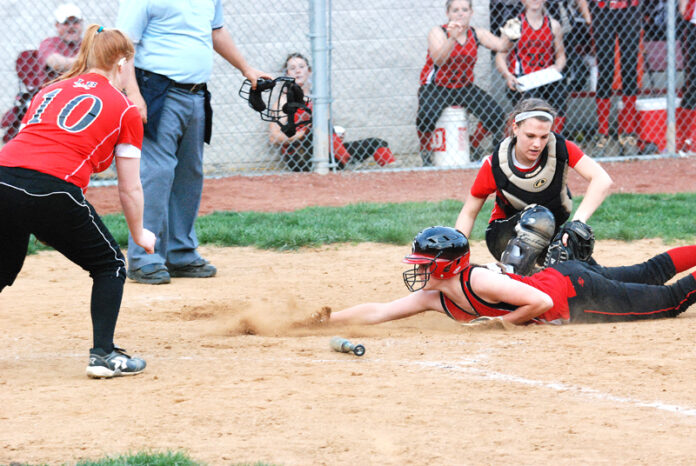 by Bill Turner
Cave Spring's Taylor Asimakopoulos' suicide squeeze bunt in the bottom of the seventh plated Dani Duff with the winning run as the Lady Knights came from behind to defeat Lord Botetourt 7-6 last Friday afternoon at Cave Spring Field.
The slugfest saw Cave Spring open a 4-1 lead after three innings, only to see the Lady Cavaliers strike for five runs in the top of the fifth. Botetourt's big blow came on a Samantha Barton 3-run blast deep over the center field fence.
Cave Spring fought back from the 6-4 deficit with single runs in the fifth and sixth innings to knot the score at 6-6, setting the stage for the final-inning rally.
Lady Knight Courtney Cooper led the Cave Spring attack, going 3-for-4, including a 2-run homer to center in the first. Cooper also added three RBIs and had three stolen bases. Duff was 2-for-3 for Cave Spring.
Barton led the Lord Botetourt hitting, going 3-for-4 on the afternoon.
Asimakopoulos went the distance in the circle for Cave Spring to pick up the win.