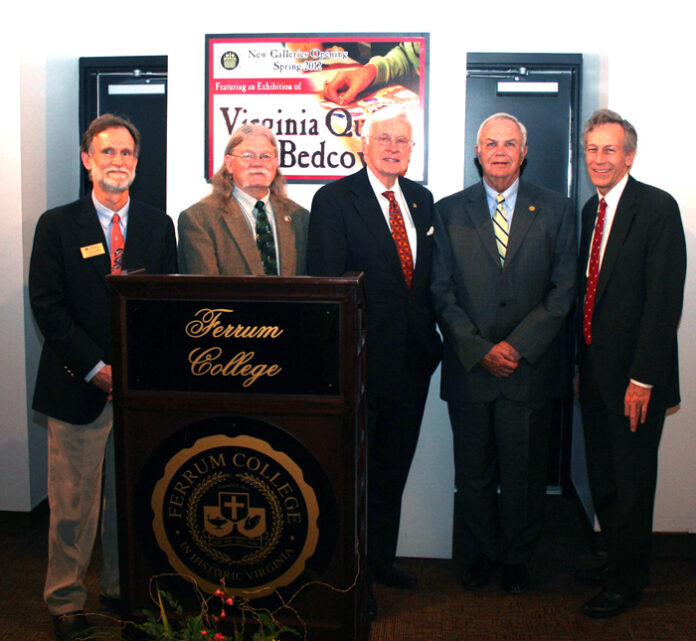 Former Virginia Governor Gerald L.. Baliles and Presidential hopeful Virgil Goode were each on hand for the grand reopening and dedication of Ferrum College's Blue Ridge Institute & Museum on Thurs., March 8. During remarks made before a crowd of more than 100, each praised the Institute's achievements as well as the importance of its new facilities in preserving and presenting the Blue Ridge region's history.
In his roles as former U.S. Congressman and former Virginia Senator, Goode helped procure the funding for the expansion as well as for the original museum. He noted during his opening comments that it was Baliles who signed the bill making the Institute the official State Center for Blue Ridge Folklore in 1986.
In his keynote address, Baliles recognized that for over four decades Ferrum College and the Blue Ridge Institute and Museum have been moving forces in preserving the history of the Blue Ridge region, moving beyond being a simple repository of books, photographs, artwork, and objects.
"The Institute is now a vital future-oriented resource for the education and inspiration of Virginia's citizenry, young and old, black and white, urban and rural," said Baliles. "It can be a force, a leader, in helping create the future of this region, just as it's made a difference in preserving its past."
Baliles also noted that the continued growth and success of the Blue Ridge Institute was symbolized in the bricks and mortar of the facility expansion that includes new storage, archival, classroom, and gallery space.
Museum Director Roddy Moore said this spring's inaugural exhibit in the Institute's new gallery would be "The Great Western Virginia Cover-up." In addition to featuring numerous antique quilts from the Blue Ridge, the exhibit will examine the region's history of bedcovers from the earliest hand-woven pieces to today's commercially-produced quilts, as well the social background of quilting within Blue Ridge families and communities.
To promote the upcoming quilt exhibit, one of the region's finest traditional quilters, Nell Townley, of Vinton, demonstrated and discussed quilting techniques. In addition, guests enjoyed banjo music by Trish and Kevin Fore, who are both well known in the regional old-time music scene. Many of the event attendees have been Blue Ridge Institute supporters from its earliest days. –
"It starts with a vision.  It starts with a dream, with a few people who say, 'This place, this space is important – and how do we keep it going in perpetuity and for posterity?' That is what the Blue Ridge Institute has been," said Ferrum College President Jennifer Braaten, as she recognized and thanked the Institute's many benefactors.