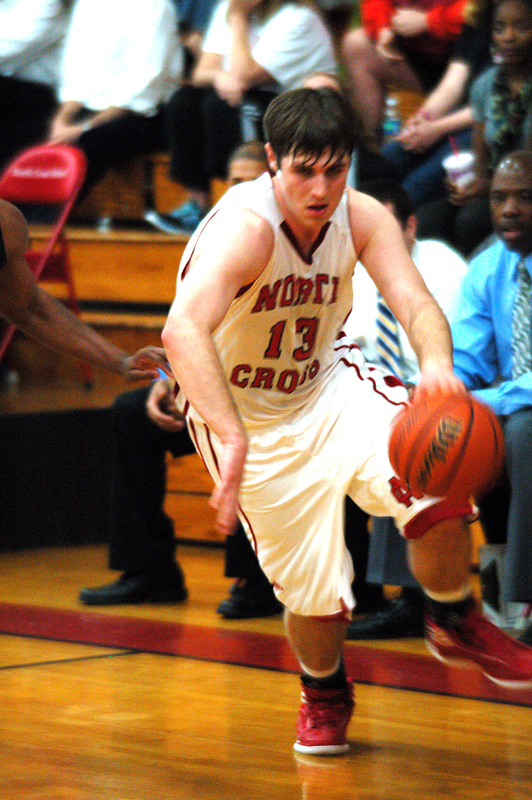 North Cross saved its best for last as the Raiders won a pair of games last week to capture the VIC Division II championship.
On Saturday afternoon in the championship game at Virginia Episcopal School, North Cross outscored Hargrave Military 26-21 in the fourth quarter to pull away from what had been a 49-49 tie after three. The 75-70 win advanced the Raiders to the state VIC quarterfinal round.
The win over the Tigers was fueled by a 26-for-35 performance at the free throw line by the Raiders. North Cross shot 17 more free throws than Hargrave, outscoring the Tigers by 15 points at the charity stripe.
Sam Lawrence led the North Cross scoring with 30 points, while Keith Oddo and Bryce Woodliff added 13 points each. Matt Doughty chipped in 10 for the Raiders.
On Thursday night in the James Muscaro gym, North Cross had punched its ticket to the final with a 76-66 win over Covenant, a team they had lost to in the regular season.
Matt Doughty came off the North Cross bench to pour in 22 points, and the Raiders broke away from a 39-39 tie after three quarters to pick up the semifinal win. North Cross scored 37 points in the fourth quarter as Covenant, forced to foul, made the contest a parade to the foul line in the last three minutes.
On top of Doughty's 22, Lawrence added 14 points, while Woodliff scored 12 and Oddo tallied 11.
North Cross Head Coach Bill Hodges praised Doughty's role after the game. "Matt plays better off the bench," Hodges said. "He could be a starter, but tonight is an example of how he can turn our offense around."
"I call Matt 'The Machine'," Hodges added. "I know I can just stick him in the game when we need a lift. You don't know how important that is."
"Covenant played a good game tonight," Hodges pointed out. "We were able to hit our free throws and that was the key."