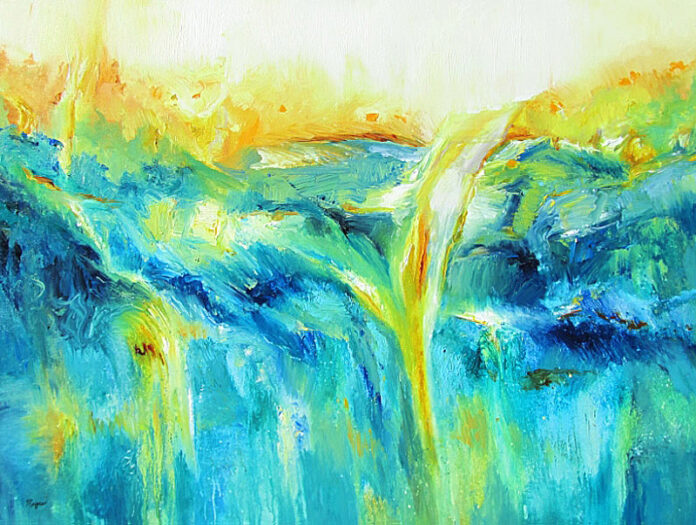 by Gene Marrano
Botetourt County artist Magae Hartzell has been a featured artist at The Market Gallery before, where she is part of the co-op, but this is the first time in years where she will take center stage. Her new show of abstract oil, acrylic and watercolor paintings, "Seeing from the Heart," debuts on February 28. Taiwanese-born landscape and still life painter Cheng Fen "Elaine" Yeh is co-featured. Hartzell and Yeh will then hold gallery talks during Art By Night on March 2, at 6:30 and 7:30pm.
Hartzell said she had to overcome a bit of a pause in her creative thought process – call it a block – before producing a new round of works that will make their debut at The Market Gallery (23 East Salem Avenue, near the corner with Wall St.) She terms it "a radical departure of creative energy that pushes boundaries and possibilities."
Yeh, who studied fine arts in a master's program at Radford University, said her new works to be displayed at The Market Gallery, beginning with the February 28 opening, "captivate feeling yet offer simplicity [via] washes, brushstroke, color and shape – conveyed through both east and west watercolor techniques."
Hartzell said she wanted "to do something different," and her new works will feature placards that explain what she was feeling and her thought process when creating these pieces. "I just want [the show] to be poetic," said Hartzell, who will write short poems to accompany each piece at The Market Gallery exhibition.
"I never know where I'm going with the whole thing – which is amazing," she notes, "I don't have a clue."  Hartzell sets out several pallets of paint but the direction she often starts out with isn't necessarily where she ends up.
She went through a period where painting was the farthest thing from her mind – flooding at Hartzell's Botetourt County home helped loosen that focus – before getting back on track. "I said the heck with it [and] just let it fly," Hartzell chuckles. A door that felt like it was shut "only opened after I transformed."  Her use of vivid colors and alluring abstract shapes often comes as the result of an "intuitive process."
While a lot of art in everyday culture is conceptual, "thinking through every piece…paint this way," said Hartzell, she instead goes with the flow and lets the creative process lead her. It's an abrupt 180-degree difference from her pairing at the show with Yeh, who favors landscapes, portraiture and still life, often in watercolors. Yeh's pieces will highlight her Chinese heritage and brushstrokes.
Yeh, a Taiwan native, was told by her parents that, "art cannot put food on the table, [but] I have continued pursuing art as a career, never doubting that it could be done." She was trained both in the Chinese ink painting style and in Western watercolor painting. "My painting is an adaptation of my Eastern training to Western styles," said Yeh.
"I think that's pretty special," said Hartzell, who used to paint in some of the styles favored by Yeh before she became an abstract artist. "[Now] mine is exactly the opposite, [but] each one painting from our hearts in a different way."
"I'm hoping that people think of things in a different way," said Hartzell of the reactions she seeks when art patrons view her new works, "and open up to the idea. I'm just doing something different."
Hartzell is also a big fan of the move from Thursdays to Fridays of Art By Night, which took place last year. "It does bring a lot more people in – people that might [normally] come. They get to know us, whether they buy or just browse." Those who don't make the show's debut on February 28 can meet Hartzell and Yeh at the next Art By Night on March 2. Their show at The Market Gallery runs through March 28.