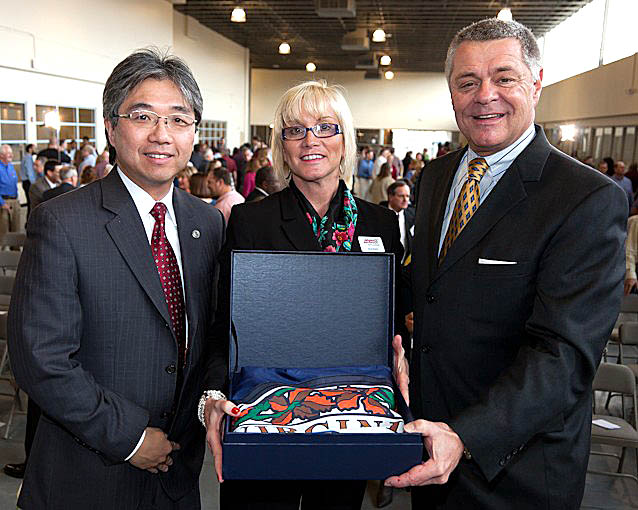 Advance Auto, a publicly traded company based in Roanoke, announced last week that they would add 75 jobs and invest $8 million by adding a Financial Services Commercial Customer Care Center to their headquarters.
Roanoke City's director of economic development Rob Ledger said that $3 million "is directly taxable in both building improvements and business personal property/equipment which impacts the local tax base."
Ledger also said that the city's Enterprise Zone would extend to their location soon. "They will be eligible for those state incentives … with additional job grants from the Virginia Department of Business Assistance for job creation the total incentives which are possible could approximate $450,000 over a 5-year period of time."
Part of the $450,000 includes the city's local EDA (Economic Development Authority) contribution, which is a $1000 grant per city resident job created, maintained for one full year. The cap is $25,000 explained Ledger. "This we hope will entice the company to hire city residents," he said.
"The city's contribution stems from grants to cover the cost of building permit fees, a possible business security grant of $500 and a grant to cover water/fire/sewer hook up fees should they need those," wrote Ledger.
"Advance Auto Parts is a leading Virginia-grown company that has thrived in Roanoke since 1932," said Jim Cheng, Virginia Secretary of Commerce and Trade. "The new Financial Services Commercial Customer Care Center will add to the company's impressive and growing operation, and I am thrilled that Advance chose Virginia for this significant expansion project."
Financial Services will manage the entire commercial customer credit experience, including commercial customer master data setup, billing, accounts receivable and collections.
In response to the news Governor Bob McDonnell said, "An investment of $8 million and 75 new jobs for the City of Roanoke is tremendous for the Company and the region. Advance Auto Parts operates more than 3,600 stores across the United States, and we are proud to be the home of this Fortune 500 Company's corporate headquarters, and now growing financial services operations, for the 80th year. I am confident that the partnership between the Commonwealth and the company will remain strong and continue to grow."
As of October 8, 2011, the Company operated 3,645 stores in 39 states, Puerto Rico, and the Virgin Islands. "Over the last few years, we have invested over $10 million in our Store Support Center in Roanoke in our effort to expand and improve our facilities," said Darren Jackson, President and Chief Executive Officer for Advance Auto Parts.
"This new team will be part of our over 1,600 Team Member base in Roanoke and is an integral part of our goal to grow Advance through service and reflects our longstanding commitment to the growth and development of the Roanoke Valley. We appreciate all the support we have received and will continue to receive from the City of Roanoke and the Commonwealth of Virginia," said Jackson.
"The City of Roanoke is honored to be selected as the site of choice for Advance Auto Parts' newly 'in-sourced' Financial Services Commercial Customer Care Center," said Mayor David Bowers. "The company and Roanoke have a long and prosperous history together, and our future is looking even better with this expansion and the addition of 75 new jobs. The national economy has been at a crossroads for a few years now, but today we're happy to report that our economy and our 'Crossroads' are looking great!"