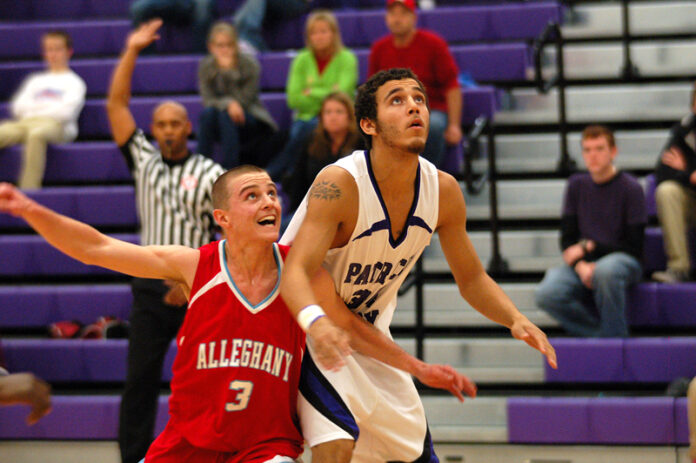 by Bill Turner
In the early going it was Alleghany's size that was a factor. In the end it was Patrick Henry's press and speed. The press and speed won out.
Reverting to a full-court swarming press that led to numerous breakaway baskets, Patrick Henry blew out Alleghany 66-37 Monday night on the Woody Deans Court at PH. Both teams had entered the contest with a perfect 5-0 record.
In the early going Alleghany's size seemed to throw off the Patriot attack down low. The Mountaineers led 13-10 after one quarter. At that point, few in the crowd would have expected the Mountaineers to only score 13 points in the next two quarters combined.
PH went to the full court press to open the second quarter and Alleghany turned into an ocean of turnovers. The first Mountaineer points came with only 1:51 left in the half and, by that time, PH had rolled to a 26-13 lead. Alleghany kept it reasonably close by scoring the last 8 points of the half to trail 26-21.
Patrick Henry head coach Jack Esworthy went to substitutions and two quick timeouts to start the third quarter after Alleghany closed to 26-24.
"I was looking for five guys who would go get it," Esworthy said in the Patriot locker room afterward. "Five who wanted to play defense and take it to the hole." Esworthy got the results he wanted.
Allegheny only scored two points the rest of the quarter as the PH press scored dividends. The Patriots opened a 46-26 cushion after three, and kept the hammer down with a 20-11 advantage in the final frame for the 29-point win.
"We allowed them to dictate the play in the first half," Esworthy added. "We dictated the play in the second, and they had trouble with our pressure."
Marcus Banks led the Patriots in scoring, with 21 points. Christian Kirchman added 8, with B.J. Hamlett, Darius Cunningham and Jamel Tucker picking up 7 points each.