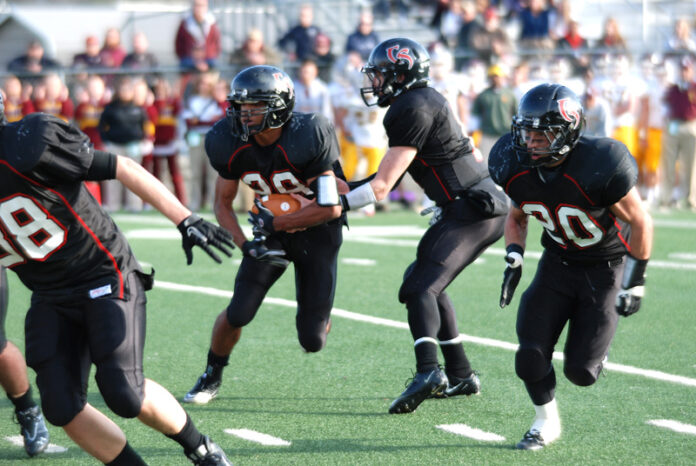 by Bill Turner
Cave Spring came off the mat with a pair of second half rallies, but the Knights fell short Saturday afternoon with the 38-27 loss to Brookville in the VHSL Group AA Division 3 semifinal at Dwight Bogle Stadium.
Cave Spring scored on its opening possession when standout running back Sam Wright went in from 4-yards out to give the Knights the early 7-0 lead.
Brookville, which entered the game undefeated at 12-0, wasted little time in responding. The Bees scored on a Korren Kirven 3-yard run and a Mark Boyd 17-yard reception from Brookville quarterback Kendall Becraft to send the teams to the halftime break with the Bees up 14-7.
Brookville opened the second half with back-to-back Becraft touchdown passes to Guy Morris from 8 yards out and Tyler Pitts on a 40-yard toss that seemingly had Brookville staged for a blowout.
The Knights, however, quickly cut into the Bee's advantage. Cave Spring quarterback Reece Kingery found a wide-open Matt Reiter in the right side of the end zone from 4-yards out to culminate a 72-yard drive. When Ryan Gerhardt pounced on a Brookville fumble on the ensuing Bee possession, Cave Spring struck again.
Forced to go with backup QB Tony Simmons after Kingery left with a knee injury sustained on the Reiter pass, Simmons scrambled for a 7-yard touchdown keeper that closed the Cave Spring deficit to 28-21 after three quarters.
Brookville padded its advantage when Becraft found Boyd for a 29-yard toss that put the Bees up 35-21. Simmons led another Cave Spring drive that ended with a Wright 10-yard TD run, his 40th rushing touchdown of the season, with just under five minutes remaining.
Cave Spring's hope for a final miracle ended when Michael Carwile picked off a Simmons pass and placekicker Alan Gutierrez connected on a 23-yard field goal to secure the Brookville win.
Wright, who led the Cave Spring rushing attack with 132 yards on 35 carries, finished the season with 2,789 rushing yards, and has secured virtually every Knight career rushing record in school history. Simmons, in the stellar backup role, rushed for 106 yards on 15 keepers.
"We responded in the second half," Cave Spring (9-4) head coach Tim Fulton said at midfield afterward. "Brookville is a good team. We were among the four teams left. This is the best level."
"This shows how good our team is," Fulton added. "We had a darn good season. These guys did a great job. No one gave us a chance."