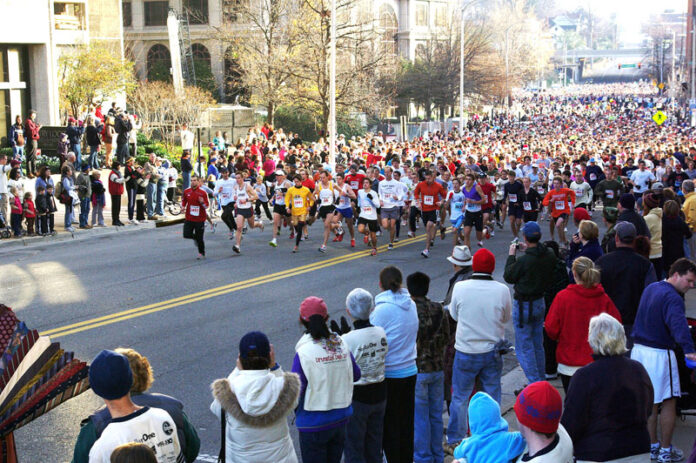 15,000 Roanokers will "move their feet so others can eat" as part of the sixth annual StellerOne Drumstick Dash to benefit the Rescue Mission.  Runners, walkers, babies in strollers, well behaved dogs on leashes and volunteers will join together to provide food, shelter and medical care for as many as 400 people in the Rescue Mission's Shelters each night. The StellerOne Drumstick Dash starts at 9am Thanksgiving Morning at the intersection of Williamson Road and Franklin Road in downtown Roanoke.
When the Dash began six years ago the hope was to attract a thousand participants.  That first year there were over 1,600 runners and walkers.  Last year the Mission expected 10,000 and had more than 11,000 participants.  "It has become the place to be on Thanksgiving morning," said Barbara Robertson who has been involved in the race all six years. Last year families from 39 states along with Norway, Guatemala, Kenya and Canada made this the largest road race in the region and Roanoke's biggest family reunion.
"You never know what is going to happen.  One year a couple got engaged in the middle of the race," said Leslie Littlefield who helps coordinate the street marshals and other volunteers for the race. The winners of the race receive hand made pewter medallions and a homemade pumpkin pies.
Fleet Feet and the YMCA both have been offering pre-race training for those who are new to running a 5K.  Saint John's Episcopal Church members are running as a memorial for John Sylvester-Johnson, the Misson's Program Director who passed away in May of this year. Hidden Valley Middle School is making the Dash a school wide event.
 The StellerOne Drumstick Dash makes a significant difference at the Rescue Mission.  Each day, emergency shelter, food and medical care are provided for families in crisis.  An anticipated $300,000 will be raised from the Dash this year.
Drumstick Dash Volunteers are still needed. Contact Volunteer Coordinator, Leslie Littlefield at 540-777-7651 or [email protected] for more information.  Not going to be in town on Thanksgiving but still want to help? Simply "Dash Away!" Costing a flat registration rate of $15 which guarantees a Drumstick Dash t-shirt, "Dash Away!" participants are committed to "moving their feet" wherever they might be.
To register or for more information, visit www.drumstickdash.net, or call 540-343-7227.