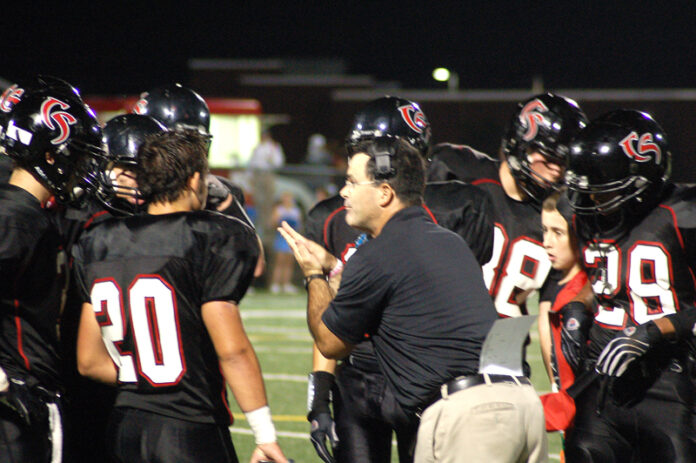 by Bill Turner
Cave Spring was looking to avenge last season's one-point loss to Alleghany that provided a minor bump to the Knights who eventually reached the regional championship game.
The Mountaineers were well contained this time as Cave Spring rolled to the 45-21 win on homecoming night at Dwight Bogle Stadium. The final score was deceptively closer than the game that had played out after a 30-minute lightning delay.
Cave Spring wasted little time getting on the scoreboard. A Reece Kingery 10-yard run and a Sam Wright scamper from the same distance had the Knights up 14-0 after one quarter. Wright would add two more touchdown runs in the second from 42 and 64 yards, sandwiched around an Alleghany TD, to send Cave Spring to the halftime break up 26-8.
 Kingery, after being named homecoming king at the half, scored on the first play of the third quarter with a weaving 62-yard run. Wright, the homecoming prince, followed with his fourth TD run of the game on a 38-yard burst. Cave Spring running back Ryan Gearhardt continued the Knight onslaught with a 6-yard touchdown run that gave Cave Spring a 45-8 lead after three.
With Cave Spring head coach Tim Fulton playing every reserve in sight, Alleghany tacked on two meaningless scores, including one on the game's last play. The Knights improved to 4-1 on the season, heading into the ever-tough River Ridge District schedule.
Wright, despite coming out of the game with just under 3 minutes left in the third quarter, led the Cave Spring rushing attack with 184 yards on 15 carries. His season rushing total through five games is just shy of 1,000 yards, including 16 touchdowns.
As a team, Cave Spring amassed 329 yards on the ground. Kingery threw for an additional 150 yards on 9-of-16 passing. Alleghany was its own worst enemy, committing six turnovers.
"We get to rest a week," Fulton said of his team's 4-1 start over tough opponents, before opening River Ridge play October 7th. "We got some help tonight. It's hard to stay in a ball game with six turnovers."