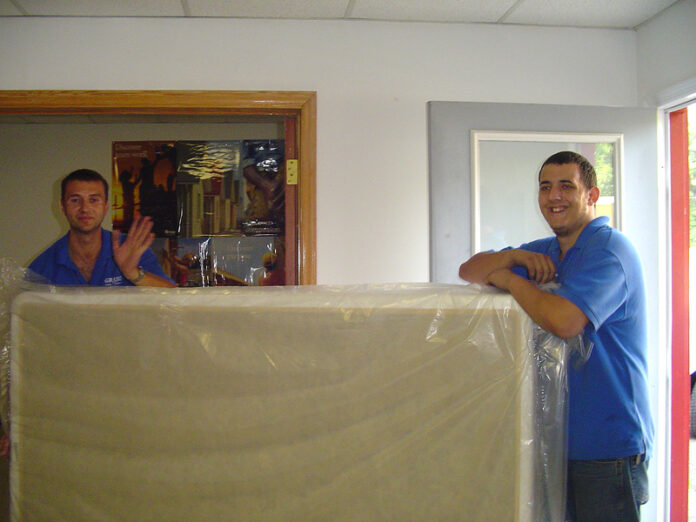 Families from West Virginia, Virginia and Tennessee will reap the benefits of "Grand Gestures" for Habitat for Humanity affiliates across a three-state region. Grand Home Furnishings decided last fall to celebrate its 100th anniversary by saluting the communities that helped the company reach 100 years. As a part of the company's new Grand Happiness Foundation, each store's employees have been implementing "Grand Gestures" throughout the year.
From painting gymnasiums to car washes, from donating furniture (there is more to come) to volunteering at food pantries, the staff has been researching and identifying neighboring organizations that will benefit from a gesture of kindness.
Grand also decided to take advantage of the success they have been having with their mattress department with a gesture that would benefit 10 Habitat for Humanity affiliates. Since late August, Grand has been delivering eight mattress sets to each of the ten Habitat affiliates ranging from Roanoke to the New River Valley, further west to Wytheville, and north to Winchester, with many places in between.
"It's been such a pleasure to give back to the people who we've been calling friends, neighbors and customers all these years," explained David Stanberry, manager of the Grand Home Furnishings Roanoke – Valley View store. "In the midst of all Grand stores doing individual projects in our backyards, this 'grand' Habitat gesture is a rewarding way to get multiple stores and warehouses involved in a broader 'thank you' to an organization that reaches across all our neighborhoods."
  The Grand Happiness Foundation was founded based on Grand Home Furnishings' century-old belief that happiness begins in the home. The foundation's mission is to bring happiness and hope to those in need, specifically focused on the safety, health and education of women and children in our community.