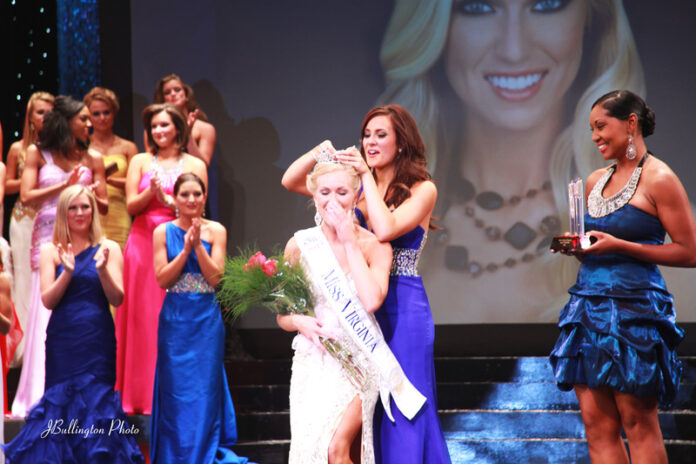 by Gene Marrano
The fifth – and final – time in the contest turned out to be the charm for Miss Arlington, Elizabeth Crot, as she was named Miss Virginia 2011 at the Roanoke Performing Arts Theater last Saturday. A statewide television network comprised of ten stations carried the two-hour finale, which followed two days of preliminary competitions in the swimsuit, talent, evening wear and interview categories. Alluding to Roanoke's moniker as the Star City, the theme for the finals competition was "Miss Virginia is a Star."
Crot, at 23, would have aged out of the competition before next year's Miss Virginia contest. For the third year she won the talent competition in a preliminary round with a stunning operatic vocal, "Sempre Libra."  She also listed some interesting tidbits in the Miss Virginia program—her great-great grandmother was one of earliest female police officers for instance—and  fried food, especially spam, is a favorite.
The Chesapeake native and James Madison University graduate will spend the next year crisscrossing the state, espousing her platform issue, Get Involved – Change Your World! While in Roanoke, Crot has the use of a free apartment at the Pebble Creek complex in Southwest Roanoke County.
Jordan Frankos was named Miss Virginia's Outstanding Preteen on Saturday and Dominick Fink is Miss Virginia's Outstanding Teen. The Miss Virginia organization awards more than $100,000 annually in scholarships, at the pageant finals and at other preliminary events throughout the year.
Right after the TV lights were shut down and before being whisked off to Hotel Roanoke for the afterglow party, Crot did a radio interview with Tara Wheeler, a former Miss Virginia who now works as a reporter. "Her life will change after tonight," commented Wheeler in setting up the segment. Miss Virginia 2010, Caitlin Uze, handed her tiara over to Crot after the new Miss Virginia was announced.
"This is the most fabulous first job a girl could ask for," said the JMU English major; "all of my student loans will be paid for after tonight and that makes it even more special for me. I'm so excited to represent this great state." Crot earned $16,000 in scholarship money with her win; she wants to return to school someday to earn a doctorate.
Crot said she was most looking forward to talking with children around Virginia, something she did in the D.C. area as Miss Arlington. Bullying is a theme she speaks about often: "I was bullied, and so many girls in this pageant were bullied as well," Crot revealed to the radio audience.
Runner-ups from among the top 11 finalists selected Saturday night were: 1st Runner-Up: Courtney Garrett – Miss Lynchburg; 2nd Runner-Up: Lindsay Morris – Miss Roanoke Valley (Morris hails from Harrisonburg); 3rd Runner-Up:  Shannon Oliver – Miss Greater Hampton Roads and 4th Runner-Up: Brittany Young – Miss Greater Richmond.
Miss Virginia Executive Producer Bootie Chewning helped keep the wheels on track before and during Saturday's finale; she called Crot "a fantastic young lady. Persistence pays off. She's going to do a fabulous job for us." That includes a good showing at the Miss America pageant, Chewning predicted.  Miss Virginia 2009 Caressa Cameron, the television finale co-host with Lowell Hill, went on to become Miss America in 2010. There were entries from 30 preliminary pageants in the Miss Virginia competition this year.