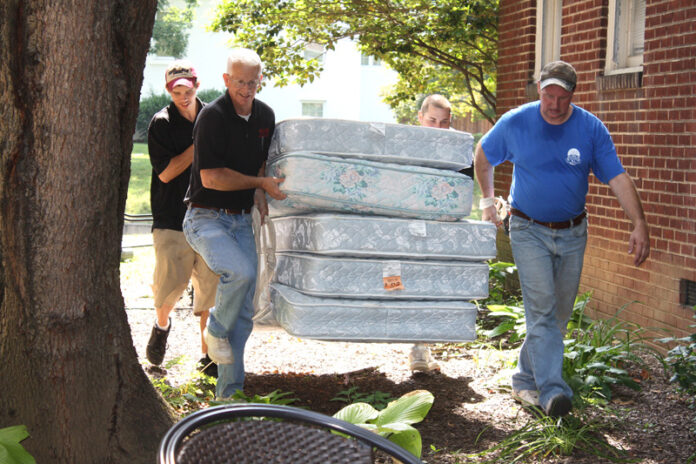 It looked like a big picnic or family reunion, complete with matching blue T shirts, was taking place last Tuesday at the normally serene Bethany Hall, whose welcoming front porch looks out on Franklin Road, nestled amongst other older brick homes that line the corridor into downtown. The flurry of activity was actually due to the efforts of employees at Grand Home Furnishings, who were there to landscape, do some home maintenance work, and replace the mattresses at the facility, all of which was donated by Grand.
There are benches in a shaded spot between Bethany Hall and their adjacent apartments next door, but there were no takers that hot morning as Grand employees broke out weeding tools, a chain saw, hedge trimmers and more as the exterior landscaping was cleaned up, while others were working on various designated projects indoors.
All of this was prompted by Grand Home Furnishings' celebration of their 100th anniversary.  The company "has had a tradition of giving back to the community, going back to our founder, George Cartledge Sr., who was a firm believer in giving back," according to David Stanberry, manager of Grand's Valley View store.
The company has celebrated with a plan to offer its communities 100 "grand gestures" on behalf of the Grand Happiness Foundation and Grand's 100th anniversary. At the same time, both Bethany Hall and Turning Point appealed to Grand for support, not imagining the result would be a truckload of new mattresses.
Bethany Hall is a residential substance abuse treatment for women, which enables them to continue to care for their children. "It's one of the few treatment programs that allows you to stay with your kids," explained Executive Director Vickie Price. "Six to nine months is a long time to be away from your children, and that separation can be an obstacle to recovery." That was one of the aspects that Grand found appealing. "It's a very worthwhile project," said Stanberry.
"This [replacing mattresses] was one of those things we had to put off and put off," said Price, who indicated there are just so many needs that they do the best they can. "We contacted Grand when we were in the midst of a fundraiser and instead they sent representatives from the 'Happiness Foundation.' We gave them a grand tour of our program—including meeting some of our little kids—and the rest is history," Price explained. She was clearly thrilled to be witnessing the partial transformation that was unfolding as Grand's small army of employees tackled one project after another.
Turning Point's residents are also starting over, but their circumstances are a result of domestic violence. The shelter typically houses 30 women, and about half have children. Director Darlene Young doesn't usually make appeals for donations, but the mattresses had a longer tenure than her 38 years. "They are ancient," she said. A board member suggested she reach out to Grand, and she got a call almost immediately.
Turning Point received 47 mattresses and 33 bunkie boards. "Grand's people are so kind and giving," Young said. "We are very fortunate to have their support. Domestic violence is not just my problem, it's our problem. It's everyone's problem."
In the midst of the work going on, Bethany Hall's Price conveyed how personal and effective she feels their program is, describing the special celebration they plan for each "graduate," who can "pick their theme and menu and we customize it just for them."  She is thinking of taking "before" and "after" pictures of the women that benefit from Bethany Hall's program because she says "as much progress as they've made internally, you can actually begin to see it externally—they look like a different person." The trust that is rebuilt between mothers and children is especially touching, according to Price. "You can see the shift that takes place as the child regains trust in his or her mother—it touches us to see it, so you know it is a significant gift to the mother."
The one-day clean up will not be the end of Grand's effort to assist Bethany Hall. The employees are working with Bethany to create a long-term volunteer program to help residents with such job and life-skill programs as mock interviews and tutoring.
Grand's Stanberry said "working on this project gives us such a great sense of satisfaction; it is really great our owners will allow us to be doing this."
For more information, visit bethanyhall.org, grandhappinessfoundation.org, or call Turning Point at 345-0400.