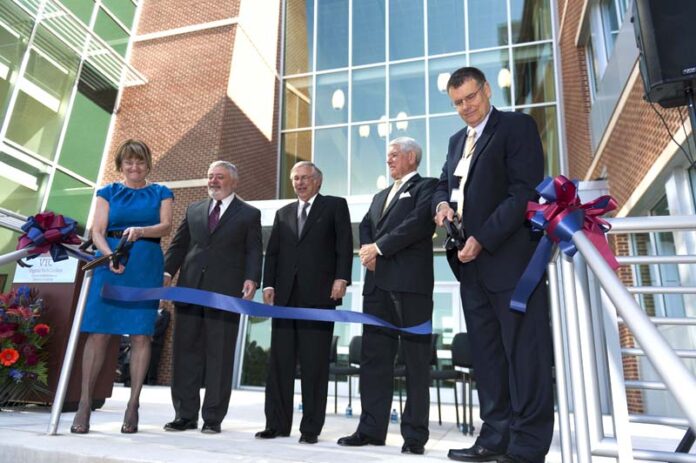 by Gene Marrano
The Virginia Tech Carilion School of Medicine and Research Institute welcomed its first 42 students last summer, but the ribbon was not cut on the research side of the new building at 2 Riverside Drive until earlier this month. Last week several of the researchers working on a study of 15,000 brains discussed their projects and the impact they could have on the medical community – and the public.
Students at the medical school will be involved with some of these projects over the last three years of their tenure at the school as well. Dr. Debbie Kelly talked about looking for "new gene targets," as part of her study, using electron microscopes and a laser that emits electron beams to take pictures of brain cells. "Can we use these targets … to find new drug therapies?" said Kelly, "to design new drug targets." Kelly came to the Research Institute from Harvard, where she created patented 3-D techniques.
The goal said Kelly is to "discover new drugs that can enrich people's lives," in the areas of blood, brain and breast cancers. Kelly was attracted to the Virginia Tech Carilion School of Medicine and Research Institute because of the mix of disciplines that includes engineering, "the right combination that can drive my research to the next level. I think it's a remarkable place."
Warren Bickel, Ph.D., is a professor at the research institute and the Director of the Advanced Recovery Research Center, where he studies addiction.  "I couldn't believe the talent this organization is bringing together," he said to a roomful of colleagues and media representatives.  Bickel wants to "transform" addiction treatment by studying how addicts value the future – or how they don't, "the totality of [addictive] behavior."
Addicts, said Bickel, have less activity in the prefrontal cortices of their brains, and often seek immediate gratification. That gives researchers a target to aim for as they design an "executive function therapy. We can train people. Those who discount the future do not do as well in treatment," said Bickel, who will focus on cocaine, methamphetamine, alcohol and tobacco addictions in his studies of the brain.
Dr. Stephen LaConte is a professor of biomedical engineering at Virginia Tech and at the Research Institute. He studies neuroimaging, focusing on how it can be used to rehabilitate neurological and psychiatric diseases.  Using Magnetic Resonance Imaging (MRI), both the structure and function of the brain can be studied while subjects are given tasks to perform.
"We can take each image of that 3-D movie and decode it," noted LaConte. "We're excited about this line of research."  He also likes the confluence of the medical school and research institute on the Roanoke campus: "there's a lot of synergy here."
Applications from his work could include addiction and concussion rehabilitation, as well as help for returning military veterans suffering from post-traumatic stress disorder. Subjects come from the Salem Veterans Administration Hospital and from nearby Carilion Roanoke Memorial Hospital.
Dr. Sonya Echols, from the Virginia Tech Carilion Medical School, mentioned how people can volunteer to be "standardized patients," trained to mimic the symptoms of a disease while students diagnose them. "It's a great opportunity to become part [of the school]," said Echols. Custom-built "Clinical Skills Suites" at the school help students adapt to real-life hospital room conditions while they examine standardized patients; performances are filmed and critiqued.
Rising sophomore VTC student Josh Nichols will work with Dr. Sara McDonald on the research project he has selected for the last three years of his VTC medical school tenure – looking at 11 segment genomes known as rotaviruses.  They can cause gastrointestinal problems and often contribute to high mortality rates in developing countries. "I'm very interested in infectious diseases," said Nichols, who hopes to specialize in that field after graduation. He will also publish a paper on the subject over the next three years.
Several medical students about to begin their second year said that the ability to interact with real patients at the adjacent Carilion Clinic building on the South Jefferson Street campus has been rewarding. "A really positive experience," noted Jarred Hicks. The small class size at the Virginia Tech Carilion Medical School – he was one of 42 freshmen – makes it "hard to be [just] a number. It allows for personalized attention."