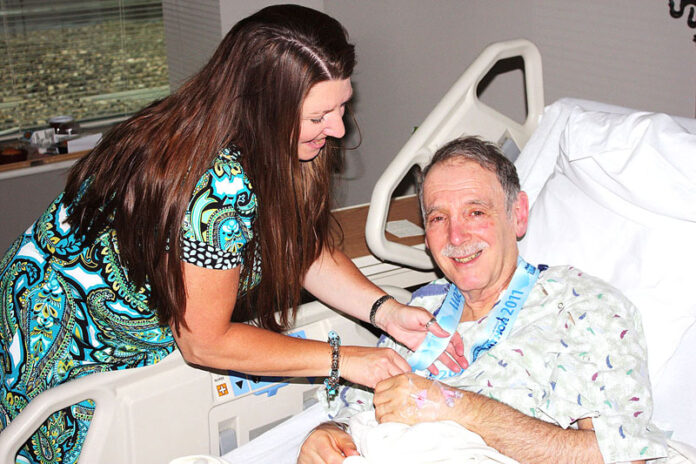 Amidst tears, smiles and overwhelming emotions, the doctor who saved Ed Deitch's life visited him at Carilion Roanoke Memorial Hospital Wednesday and presented him with a finisher's medal from the National College Blue Ridge Half Marathon.
"You saved my life! I can't thank you enough," Deitch told Dr. Karen Aldredge, who revived him in the ambulance, minutes after he crumpled to the ground Saturday about 100 feet from the finish of the 13.1 mile event.  Aldredge, who heads the Emergency Room at the Veteran's Medical Center in Salem and teaches a course for paramedics at National College, was working the race as part of the College's title sponsorship.
Deitch says he was having a great run, despite the rainy conditions and "… thought I would pick it up the last hundred yards or so and sprint for a personal best."  The next thing he remembers is waking up in the hospital.
Doctors say Deitch, who says he's been a distance runner for three years, had partial blockages in two arteries, and suffered a heart attack.
The organizing committee of the marathon and half marathon felt that Deitch deserved the finisher's medal.  "Considering all he went through, he more than deserves the medal," said Pete Eshelman, race co-chair.  Eshelman said the committee also wanted Deitch to have an award from the committee – a running figure fashioned from a railroad spike.  The awards were given to overall and age-group winners in the race.
Aldredge, who had not seen Deitch since the ambulance ride, was visiting him for the first time.  Organizers thought she was the perfect person to present him with his medal.
For his part, Deitch, who seemed in good spirits and thought he would be released from the hospital soon, surprised organizers by telling them he plans to run the race again next year, "with the permission of my doctors."
Organizers promised him a free entry in next year's event.  "We would love to see Ed back here again," said Eshelman.