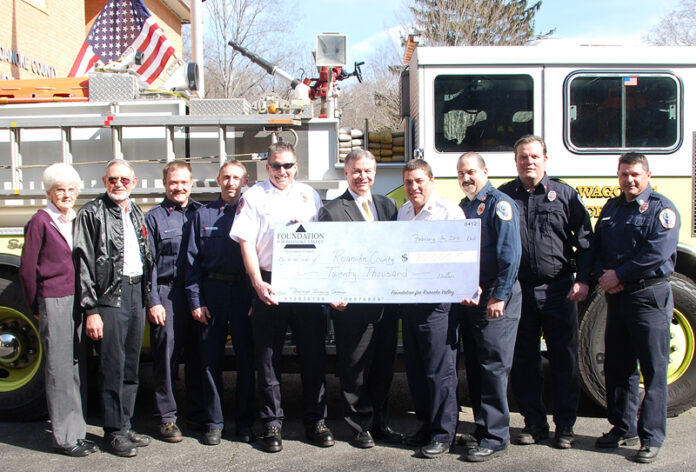 Foundation for Roanoke Valley has awarded a $20,000 grant to Roanoke County for the purchase of two state-of-the-art thermal imaging cameras.  One camera will be placed in service at the Back Creek Fire and Rescue Station, and the other will be used at the Bent Mountain Fire and Rescue Station.
The grant comes from the Foundation's Jacqueline S. (Jackie) and Shelborn L. (S.L.) Spangler Fund, which was established in 2006 through the estate of S. L. Spangler.  The purpose of this endowment fund is to address a wide variety of important needs and opportunities in the communities along the Route 221 south corridor, generally falling between Cotton Hill Road and Check, Virginia.  This designation reflects where the Spanglers lived during the course of their lifetimes.
Alan Ronk, the Foundation's executive director, said in making the announcement:  "For this year's Spangler Fund grants, we wanted to focus on helping meet the fire, rescue, and safety needs of the respective neighborhoods involved, over and above the many wonderful resources that Roanoke County is currently able to provide.  In talking with Roanoke County Fire and Rescue Department Chief Richard E. Burch, Jr. and his division chiefs, we identified the need for the cameras at these two stations, and the Foundation moved quickly to meet that need."
Chief Burch noted, "These thermal imaging cameras are very light and easy for our personnel to carry and are superior in every way to the bulky first-generation equipment currently being used at Back Creek and Bent Mountain stations. Over time, this updated technology will help save additional lives, help prevent injuries to homeowners and our firefighters, and play a vital role in minimizing structural damage in the course of battling a fire.  We are delighted that the Foundation has awarded this grant to Roanoke County and look forward to getting the cameras in service very soon."
Ronk added:  "We are so thankful to Jackie and S. L. for their concern for others, and that concern continues to be expressed every year through the Spangler Fund's perpetual grants."
Foundation for Roanoke Valley is the community foundation serving this region.  The Foundation has worked for more than two decades to administer and make grants from hundreds of named endowment funds on behalf of the community.  For more information, visit www.foundationforroanokevalley.org.