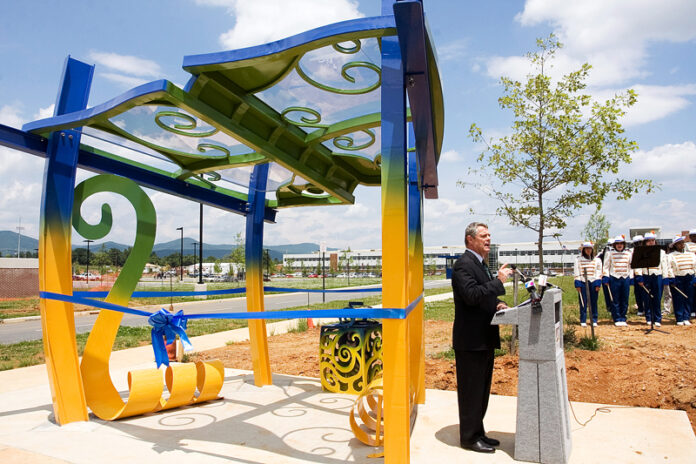 The City of Roanoke, the Greater Roanoke Transit Company (GRTC) operating as Valley Metro, and the Roanoke Arts Commission dedicated the second of two public art bus shelters on Tuesday near the entrance to William Fleming High School.
The design of the project combined both industrial and organic elements. As with the bus shelter installed in front of Patrick Henry High School last November, this one involved a collaboration among the city, Valley Metro and Roanoke City Public Schools.
Artists applied for the project through a Request for Proposals issued by the City of Roanoke and the GRTC. A citizen selection panel including Arts Commission members, educators, students and GRTC representatives reviewed the responses and recommended artist Ed Dolinger based on his artistic and teaching experience.
Mr. Dolinger worked with the students in William Fleming High School art teacher Jimmy Deck's classes during the 2008-2009 school year. Together they developed designs for the shelter, which  now stands at the entrance to the school. Students dealt with the full scope of a public art project including design, fabrication and presentations to and approval by Roanoke City Council, GRTC and the School Board.
Titled "Coalesce," Mr. Dolinger describes the bus shelter as a happy merger of the two main designs developed by the students. One design had an industrial feel while the other was organic in nature. Combining the two allowed the students to design a piece of art that has the features of a bus shelter while giving a nod to natural elements in the landscape. "The final two design groups could not have been more disparate in their concepts, yet remarkably, and creatively, they developed a product that merged beautifully without subverting the essence of each concept."
Dolinger, a painter and sculptor who resides in Bassett, studied at the Corcoran School of Art and currently serves as adjunct faculty at Hollins University. His public art commissions include the Salt Lake City Library, the Park City Utah Transit Center, the Lynchburg Children's Museum and the Festival of Lakes in Madison, Wisc. He is represented in public and private collections across the country and has received numerous fellowships and awards. Dolinger is the founder and director of Dialog Gallery in downtown Roanoke. His work received the Best in Show award at the annual City Art Show in 2009.
The project was funded by a federal grant received by the Greater Roanoke Transit Authority and the Percent for Art Program of the City of Roanoke.