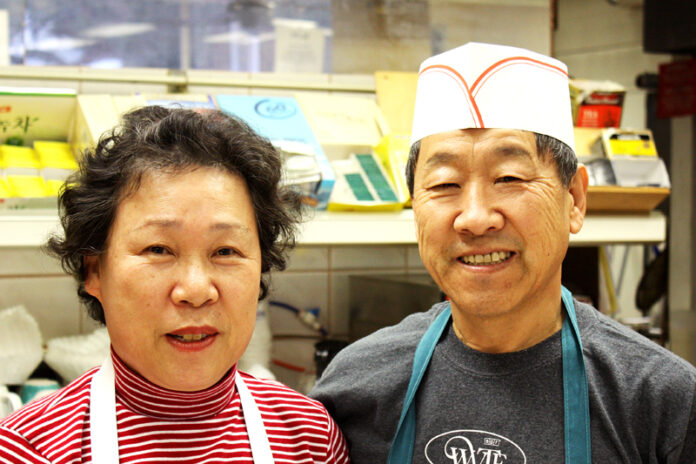 Francis Moon was putting away bowls of cold salads behind the glass counter when I walked in and asked him if this was a good time for our interview.
"Okay," he said. "How long will it take?"
"Oh, about 20 minutes," I replied. We sat down at a table. My first question was simple: "What brought you to America?"  He took a deep breath and said, "I need to tell you my story." An hour and a half later, he was done. And what a story it is.
Moon, co-owner and chef at the Full Moon Cafe in southwest Roanoke County, was born in what is now North Korea on August 15, 1945—Liberation Day, the day that the Korean Peninsula was freed from Japanese rule during World War II. When Moon was just two years old, his family fled the North and crossed into South Korea by boat, stuffing socks into the young boy's mouth to hush his cries. An uncle who promised to follow soon after never arrived. The family ran a soap-making business in Seoul while the Korean War raged around them, and later a store in Busan. After the war, the Moons started a farm with about 300 chickens.
Moon helped with the growing family farm, and by the time he went off to college to study animal science, the Moons' operation had grown to 10,000 chickens. After a year in the army, he finished his degree and took a job in purchasing with Purina. A doctor friend introduced Moon to his future wife, Veronica, who was an RN at a large hospital nearby. They were married in 1973.
The newlywed Moons recognized that South Korea was a poor country and yearned for a better life for the children they wanted. They looked east across the Pacific Ocean. Veronica Moon got a job at Kirkwood General Hospital in Detroit, and the young couple arrived on American soil in Hawaii soon thereafter.
Moon was a grown man with a college degree and a veteran of the Korean army, but he needed work, so he took a job at an Uncle John's restaurant—as a busboy.
"The food was very good," Moon said. "It was very good quality. People lined up every day." He learned to cook and worked 16-hour shifts because he could expedite orders well. Soon Francis Moon took the plunge and bought a pancake house in Rockford, which happened to have a large Swedish population. "I still make a good Swedish pancake," he says.
Still not satisfied, this one-time refugee and chicken farmer decided to move to the culinary capital of America—Manhattan. He bought a struggling French bakery on the corner of 23rd St. and 2nd Ave., and convinced the owner to stay on for one year and teach him the art of French baking. Soon Moon grew it into a wholesale croissant business running around the clock, making five to six thousand bagels a day with a staff of 10 employees.
Despite their success, the Moons felt the urge to move on once again. After reading an article on Roanoke in "Money" magazine, they bought a house in southwest Roanoke County, and now reside not too far from their latest endeavor, the Full Moon Cafe Deli-Bakery Restaurant on Brambleton Ave.
Full Moon offers a wide assortment of bagels, pastries, croissants, cookies and other baked goods, in addition to salads, subs, sandwiches, wraps and a breakfast menu. Full Moon is the first restaurant that Francis Moon started from the ground up. "I want to make good food, good quality food," Moon said.
He explains that while delis and bakeries are common in the northeast, the South needs more of them, because it's healthier eating. For example, Moon said "a sausage biscuit is a lot of grease." Compare that to a croissant, which uses a small amount of butter. "The proof is the French people," said Moon, known for their good cardiovascular health despite a high-fat diet.
Moon is proud of his Korean heritage. He expresses his gratitude to the US for its role in South Korea in the last half-century, and in the same breath extols the virtues of Korean companies like Samsung, LG and Hyundai. "The Korean people are very diligent and very smart," said Moon. "Korea is a place where anybody can learn anything. They want to be the best."
As proof, Moon points to Olympic speed skating. With a grin, he said, "Shani Davis won the gold—but the coach was Korean."
Striving to be the best is part of who Moon is, too.  Any of his regular customers would vouch for the exceptional quality of the food he prepares. His croissants, bagels and homemade cookies make his Cafe a destination for many of them.
I stopped by the restaurant again the next day. "I didn't finish my story," Moon said. "My uncle was a POW and was released after the war. He spent the rest of his life in South Korea."
"And the short track skating coach is Korean, too."
By Dave Perry
[email protected]