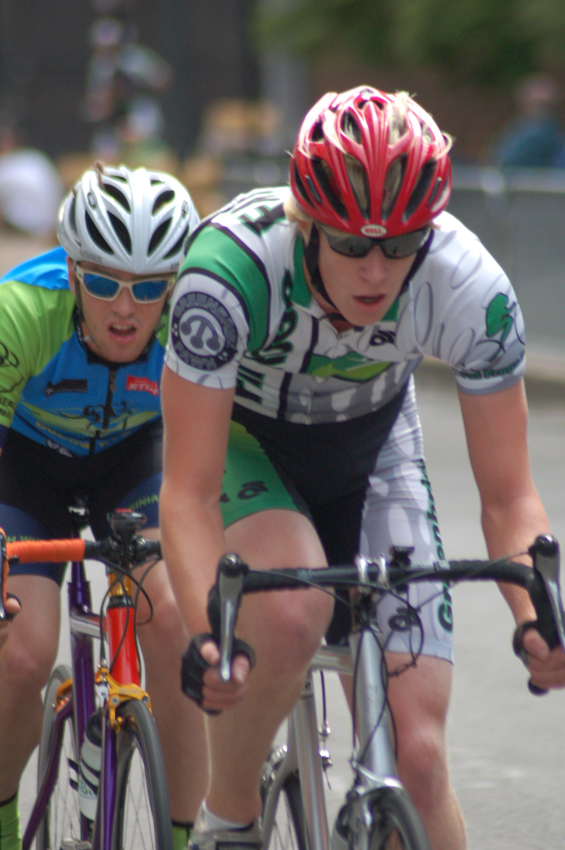 Ben King of the Trek-Livestrong professional cycling team took top overall honors along with two stages in Roanoke's ID3 weekend of bicycle races over the July 4th weekend. The race series consisted of three stages from Friday-Sunday. Friday's stage was a hill climb time trial, where riders raced the clock up Mill Mountain. Saturday's and Sunday's races were both criteriums, where riders race a large number of laps over a short closed circuit in a tight pack. Both of the two criterium courses took place in downtown Roanoke. Over 200 riders participated each day in different races.
King, a former Virginia Tech student and Charlottesville-area native, races full-time with the team that was started as a pro-development program by Lance Armstrong. This year he has raced in Europe, South America, and all over the US. He took the race lead on the first night by winning the Mill Mountain Time Trial in convincing fashion. In Saturday's criterium King won the race by a lap despite crashing at the very end. After hearing of the crash, King's Trek-Livestrong team manager Axel Merckx informed him via text message that he had to sit out Sunday's rainy criterium to avoid injury ahead of next month's US National Championship road race.
This left an opening for current second place rider Jeff Buckles of Richmond Pro Cycling.  As the rain poured down on Sunday's technical six-corner course, Buckles and teammate Craig Dodson soloed away from the field to take first and second. Buckles had to win Sunday to take the overall title but instead gave the stage win to his teammate and settled for second place overall. Phillip Robb of Lynchburg held strong for third place.
The women's race was a battle between a solo rider, Lenore Pipes of Philadelphia's Zaveta team, versus the Richmond-based River City Women's Cycling team. Pipes scored most consistently in all three events to take home the overall prize.
In the men's category 3-4 amateur race Stu Louder of the Roanoke-based Kazane Racing team took home the overall prize by placing second Saturday and first Sunday. The field included race promoter Ron Glowzinski of the Roanoke Cycling Organization, taking a little time out each day to enjoy the fruits of his labor.
All three days brought out spectators along the roads. The race, in its present form, is only in its second year but carries on a long tradition of professional cycling events in the Roanoke area, from the legendary Tour DuPont to the Festival Cup of the late 90's.