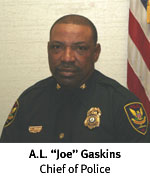 Editor's note: Roanoke City police Chief Joe Gaskins released the following statement regarding the arrest made by Officer R.B. "Bill" Lucas May 14 on Campbell Avenue, near the Market Building.
The City of Roanoke and the Roanoke Police Department are committed to supporting the local arts community.  The Department is proud of its role in fostering a safe and healthy atmosphere for the many festivals and other outdoor activities that are part of the city's cultural scene. However, any such gatherings need to be conducted in a manner that respects both the participants and those who are not participating. Roanoke City Code Sections 30-101 through 30-108 were written to address the proper conduct of public assemblies, in particular the following section: "To allow the safe and reasonably unrestricted flow of pedestrian traffic on sidewalks and vehicular traffic in the streets and alleys…"
Good communication is critical in preventing problem situations from occurring. Had a permit been obtained for the May 14 demonstration, the group would have been able to hold the demonstration without incident. The Department recommends that any groups desiring to hold public gatherings of any type contact the Police Department and other appropriate city departments and obtain the appropriate permit in advance.
Given all the circumstances surrounding the incident on May 14, the Department supports the actions taken by Officer R.B. Lucas. The Department further hopes that this experience has provided a framework for improved outcomes for any potential conflicts in the future.  Roanoke's Police Officers can do their jobs best when citizens take a proactive role in contributing to a safe and healthy environment in our city.